If you are looking to teach toddlers, children and teenagers how to meditate and practise mindfulness…then we can help!
With over 17 years experience, we can help you teach young people these important, mindfulness, life-skills.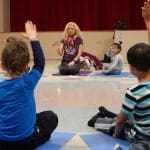 We provide a wide-range of ideas and information to help you get started.  Helping your kids relax whatever their age and including special needs too.
So please explore and share.
The more we can encourage our mindful community to practise mindfulness and meditation… the more peaceful our world can be.
Thank you
_/\_ Namaste
Lorraine Murray
Founder of Connected Kids™
Author of 'Calm Kids' and 'Connected Kids – Special Needs™
P.S. – we are closed for Christmas and New Year but you can still book courses or buy cds… festive hours >>>