Online Courses – Kids Meditation Teacher Training
We know it can be difficult for people to attend our classes because of work/travel or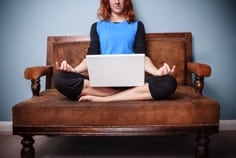 childcare commitments.
Or perhaps you are in a different timezone to the UK?
That's why we have a comprehensive resources of e-learning through our online training courses that you can attend!
Self-directed study
This means that you log in to the course at a time you that suits you.
Our courses are interactive...  you can learn new information/offline (we supply books/further reading as part of the course).
Plus you can enjoy recordings (audio/video) that make the course feel more personal and supportive.  
Live online classrooms
Some of our courses involve a live, online classroom.  You will be invited to an online group and dates/times will be advertised on this.  It's free!
Certification
The online courses are designed to give you the experience and resources. At the end of each course you will receive a certificate of completion.
The Connected Kids Level 2 online course can become recognised accredited training (Professional Connected Kids Tutor certificate) once you have completed the certification process which involves offline assessment work and attendance at our live coaching sessions with the founder, Lorraine Murray.
Enjoy learning online to teach kids meditation. 
Future online courses
Mindful parenting
Working with kids in trauma/care
Mindful activities for schools
Mindful Healthcare
Please join our mailing list to be kept to date of release dates.