Learn online to become a kids meditation teacher!
If you wondered how you could train to teach kids meditation but couldn't make a class, well now you can.
In 2018, we launched our Connected Kids training programme (beginners to professionals) as an e-learning course.
Now you can learn to become a kids meditation teacher wherever you are in the world!
This particularly appeals if you can't attend a class in person because your schedule
won't allow or you can't organise child care.
The Connected Kids online training package
This level helps you create and deliver bespoke meditations for your children of all ages – whether that is for personal use or part of continuous professional development.
You'll receive a certificate of completion and have 6 months access to the course (it usually takes about 3 months to complete).  Plus you can extend if you run out of time.
Level 2 Online  – professionals 
This level teaches you how to teach meditation professionally – becoming a mindfulness teacher that can work with kids and teens of all abilities, including those with special needs, autism  or those with anxiety and high levels of stress (all ages, all abilities).
It will help you create a toolkit of meditation ideas and how to select the one that suits the children you teach.
 It will really boost your confidence to trust your intuition to guide the meditation sessions.
You'll receive a certificate of completion and you have 12 months access to the course (it can take 3 to 6  months to complete).
*Once you take level 2 online, you can apply to become – certified as a Professional Connected Kids Tutor
Online package savings
You can purchase the courses separately – investing in level 1 before you decide to purchase level 2.
However if you take the online package you will save £50.
Normal price is *£475 plus VAT, you pa
y £425 (plus VAT).
Ordering from outside the UK?  The current price in US dollars is approx $700/300 euros – you can check current rates here www.xe.com.  
Still not sure
If you don't know whether you could take both levels, please note that the course only activates when you use activation code for each level – so you can purchase both now but start them when your schedule allows!
Save a little bit more money
Already have our books? – If you have already have the required reading –  Calm Kids and Connected Kids books – use the discount code to save another £20 off the course cost!  Discount code – onlineCKNOBOOK
After you purchase the course…
When you purchase this option, we will post out the Calm Kids and Connected Kids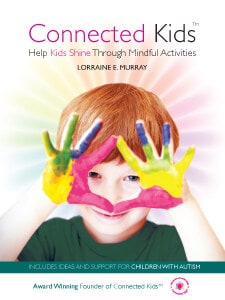 books to you (these are required reading for the course).
You will be emailed a passcode and details of how to log on to start the beginners course.  When you reach the end of this course you can contact us and we will organise your access to Level 2.
Why our online courses are great…
Do you sometimes find that online courses are difficult to finish or a bit dull?  
Well our online courses are different.  We make them interactive, personal, easy to use and interesting to learn new skills online.
Plus you'll be invited to a wonderful community of people like you … who are passionate about teaching children meditation.
We do hope you can join us.
*Please note that the online package doesn't include the certified Connected Kids Tutor certificate – this is an online, virtual classroom with the founder – you can apply to join this after investing in the online package.